AirSpade 5000 Utility Series
- 105 cfm with 4 ft Barrel
ASU54105
ASU54105
ASU54105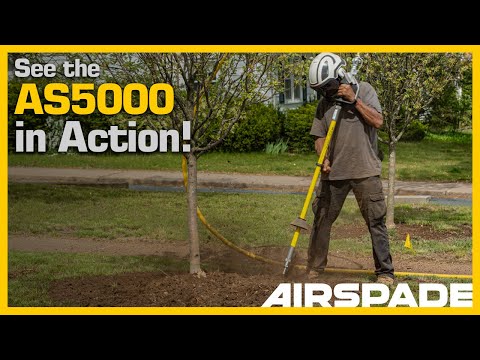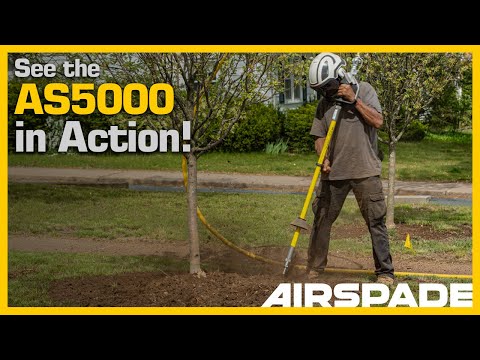 Regular price
Sale price
$1,814.00
Unit price
per
Sale
Sold out
Safely uncover underground utilities with the AirSpade 5000 Utility Series -- the latest innovation in the AirSpade product line. Featuring an in-line style handle, AirSpade 5000 Utility is designed for air excavation applications where gripping the tool in a vertical position is preferred.

AirSpade 5000 Utility harnesses the power of compressed air by incorporating the high-performance, proprietary AirSpade Supersonic Nozzle. Fabricated from non-sparking bronze, the nozzle generates a laser-like air jet that moves at twice the speed of sound for faster, more effective digging.

Rugged, lightweight aluminum handle features full-size grip opening to accommodate linesman's gloves. Comfortable plastic grip provides thermal protection and a degree of electrical insulation. Dead-man trigger ensures safe operation and trigger guard prevents accidental activation. Integral pressure gauge ensures optimal digging performance. 3/4'' NPT compressed air inlet equipped with 3/4'' swivel-type Universal Coupler.

Screw-on, electrically insulated fiberglass barrel rated to 300kV protects operators from buried, high-voltage utility lines. Brass barrel sleeves and connectors minimize sparking potential. Adjustable, rubber dirt shield deflects soil and debris. Detachable, auxiliary handle included. 

View full details
Features
AS 5000 Handle with 3/4'' NPT inlet
Swivel-type Universal Coupler
300kV rated, insulated 4 Ft. fiberglass barrel
Adjustable, rubber dirt shield
Non-sparking, bronze Supersonic Nozzle
Detachable, auxiliary handle
(1) AS 5000 Handle with swivel-type Universal Coupler
(1) 300kV rated, insulated 4 Ft. fiberglass barrel with dirt shield
(1) 105 cfm non-sparking, bronze Supersonic Nozzle
(1) Detachable, auxiliary handle
(1) Operations Manual
Specifications
Part Number
Inlet
Min. Compressor Required (hp)
Soil Excavation Rate (cubic ft/min)
Noise Level (dB)
Flow (cfm)
Dimensions
(L" x W" x H")
Weight (lbs)

Part Number

ASU54105

Inlet

3/4

Min. Compressor Required (hp)

23

Soil Excavation Rate (cubic ft/min)

0.9-1.5

Noise Level (dB)

120

Flow (cfm)

105

Dimensions
(L" x W" x H")

63.5 X 11 X 3.2

Weight (lbs)

9

Part Number

ASU54150

Inlet

3/4

Min. Compressor Required (hp)

33

Soil Excavation Rate (cubic ft/min)

1.2-1.8

Noise Level (dB)

122

Flow (cfm)

150

Dimensions
(L" x W" x H")

63.5 X 11 X 3.2

Weight (lbs)

9

Part Number

ASU54225

Inlet

3/4

Min. Compressor Required (hp)

50

Soil Excavation Rate (cubic ft/min)

1.7-2.3

Noise Level (dB)

124

Flow (cfm)

225

Dimensions
(L" x W" x H")

63.5 X 11 X 3.2

Weight (lbs)

9
Lead Time
Estimated 5 Days